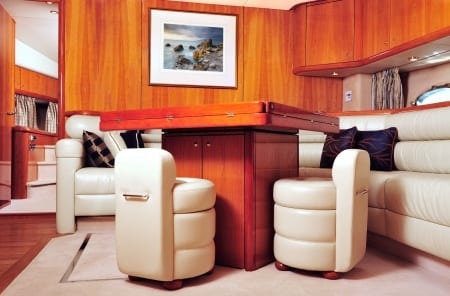 MARINE
Clean and protect your boat leather
Leather seats and accessories in a marine environment are a real challenge. How do you clean boat leather? With the right product.
Known and appreciated for its beauty, leather is also a highly durable material. Like any surface treatment in a watercraft—leather seats and coverings take abuse. Exposed to the elements, high humidity, heat, soiling, water, and the sun, leather coverings can dry and eventually crack. Even with a canvas cover or in a boat cabin, leather maintenance is important to help seats and coverings stay looking new and remain pliable.
To preserve leather surfaces on your boat, steer clear of tips on cleaning recipes and techniques that work best for vinyl, metal, and plastic boat parts. Whether in your home, car, boat, or aircraft—the best way to clean leather is with products formulated for finished leather.
Maintaining watercraft takes time, and most boaters would rather be on the water. All Leather Maintenance offers a line of high quality cleaning products to help you clean boat leather and take less time doing it. Just some of our products for your boat leather include:
Leather Cleaner with Conditioner: Our one-step solution keeps your leather looking great and gets you on your way. This custom blended formula cleans and protects fine leather surfaces. Use this product to clean, rejuvenate, and add a protective barrier to deter stains, grease, body oil and fading from sun exposure. Use this with our genuine horsehair brush to clean—not damage—the pores in your leather surfaces. Or—use our convenient leather cleaning wipes available by the pack or tub. Quick, convenient cleaning and conditioning in a swipe.
Restore your upholstery: Effective on genuine and synthetic suedes, sheepskin, NuBuck, wool, and other upholstery surfaces, Perrone's Micro Lather Upholstery Cleaner is ideal for marine applications. This water-based formula lifts and cleans stains and soiling from a variety of surfaces. To optimize your capability to clean and restore your boat upholstery, we include our Refining Billet free when you order our Micro Lather Upholstery Cleaner. Use the Refining Billet and our small horsehair brush to help lift set-in, dry stains and restore the nap and clean appearance of your upholstery.
Remove ink from leather: Ink stains are a problem on leather. Use our ink remover to remove or improve ink stains on your boat leather. It works on lipstick and other stains too. Just apply Ink Remover to the affected area and let stand for three to five minutes. Remove both ink and remaining chemicals with a cotton swab and or clean cloth. For permanently set ink or other stains, our topical cleaning solutions may not work—but they will not harm the finish of your leather.
When you take a little time each month for leather maintenance—it shows. If you have questions about cleaning boat leather, call us at All Leather Maintenance.
(*) Note products are specifically formulated for finished leather products. These products are not recommended for unfinished leathers such as suede or NuBuck leather. To identify if these products are recommended for use on your leather item, simply apply a droplet of water to the area you want to clean, protect and maintain. If the droplet of water beads-up, your leather is a finished leather products. If the droplet is absorbed into your leather, then it is unfinished and the use of our products are not recommended for your item.