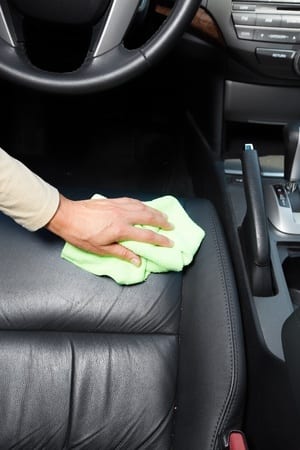 AUTOMOTIVE
CLEAN AND PROTECT YOUR CAR LEATHER
Leather interiors add to the value and comfort of any vehicle. Yet leather car seats and upholstery take a lot of abuse from heat, cold, accumulated build-up and soiling. How do you clean car leather to keep your seats and surfaces looking new?
It is easy with All Leather Maintenance products from Perrone Aerospace. As with any leather, automotive interiors need to be routinely cleaned and conditioned. Our leather maintenance products let you detail your own car by using professional products and tools to preserve and protect the leather in your vehicle.
Choose from these products when you want to condition and clean car leather:
LEATHER CLEANER WITH CONDITIONER:
Protect your car or truck's leather with Perrone Leather Cleaner with Conditioner. Simply use this product as directed with a genuine horsehair brush for outstanding results. Long lasting conditioning agents help to protect your leather against sun fade and re-soiling. Also available in convenient pre-saturated wipes.
For heavy-duty leather cleaning, use Deep Cleaner along with a genuine and Always test on an inconspicuous area of your leather to determine colorfastness and surface integrity. Deep Cleaner was specifically formulated to dig out body oils and soils to return your leather to its original look, feel and gloss with no oily residue.
For ink stains on your leather, simply apply Perrone's Ink Remover to the affected area and let stand for three to five minutes. Remove both the ink and remaining chemicals with a clean cloth. Some stains may require additional applications.
Using household detergents and plastic tools to clean car leather can mar or permanently damage your upholstery or leather finish. When you want your leather to look good—let us help.
To protect household, automotive, or marine leather goods, use products specifically formulated maintain the luster, value and beauty of your investment. When you have questions about a cleaning challenge or product—contact us at All Leather Maintenance.
(*) Note products are specifically formulated for finished leather products. These products are not recommended for unfinished leathers such as suede or NuBuck leather. To identify if these products are recommended for use on your leather item, simply apply a droplet of water to the area you want to clean, protect and maintain. If the droplet of water beads-up, your leather is a finished leather products. If the droplet is absorbed into your leather, then it is unfinished and the use of our products are not recommended for your item.